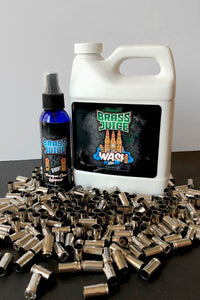 Alpha Beast Starter Set
thereloadingstation.com
Regular price $39.99 USD Sale
If you reload, you need Brass Juice!  This special offer includes everything you need to wash your brass, the Brass Juice Case Wash, and Brass Juice  Handgun case lube to keep your press running smooth.  
"Brass Juice case wash and case lube save time, work really well, and actually even smells good!  What's not to love?!"
-Devin Hajek, Competitive Shooter
Alpha Beast Starter Set Includes
1 liter of Brass Juice Case Wash
No Stainless Steel Media Required
Designed for use with sonic cleaner and rotary tumblers
Removes fouling, tarnish and oxidation from brass cases
Cleans cases inside and out including primer pockets
Made in the USA
Brass Juice Case Wash is formulated to remove carbon buildup, tarnish and oxidation on brass quickly and efficiently. Specifically designed to be used with No Stainless Steel Media in Ultrasonic Cleaners and Rotary Tumblers. Solutions are so potent, they can be used for multiple cleaning cycles before having to mix another solution. 64:1 mix ratio. (2-oz of concentrate to 128-oz of water
4oz. Bottle of Brass Juice Handgun Case Lubricant
         Superior formula for effortless resizing Handgun Case Brass
It contains no petroleum, teflon or other synthetic silicone, so it will not contaminate powder or primers.Dries quickly. 
Non-sticky, quick and easy application when loading large volumes of rounds at a time. 
Engineered for uniform coating.